Discover how Tourza helped Vertical Strategies Real Estate enhance its Miami presence through strategic branding, web development, and digital marketing.
Vertical Strategies Real Estate (VSRE) stands as a beacon of success in the commercial real estate landscape, boasting a track record that spans over four decades. With deep-rooted expertise, a comprehensive understanding of market dynamics, and a reputation built on trust and efficacy, they've facilitated countless property transactions for an array of clients.
Recognizing the tremendous potential and growth in Miami's residential real estate scene, VSRE aspired to branch out from their commercial niche.
Driven by the ambition to tap into this thriving residential market, VSRE sought to harmoniously merge their commercial acumen with the distinct demands of Miami's residential clientele. Their vision: to solidify their foothold as a dual-sector real estate powerhouse in the heart of Florida.
Vertical Strategies Real Estate's ambition to penetrate the bustling Miami residential market was no small feat. Our project was riddled with intricate challenges, each demanding meticulous attention and tailored solutions:
A crucial task was the rebranding. We had to reimagine VSRE's identity to resonate with the Miami vibe—capturing its freshness, modernity, and energy. The aim was clear: distinguish VSRE amidst a sea of realtors and position them as a premier residential real estate broker.
Creating a responsive and intuitive website was imperative. We integrated a custom MLS data feed tailored to specific neighborhoods and property parameters. Additionally, Google map overlays provided visual ease to prospective buyers. The back-end was meticulously designed for optimal lead capture, ensuring that VSRE never missed out on potential business.
The expansive digital landscape demanded a multifaceted marketing approach. From harnessing the power of SEO to curating compelling content, leveraging social media's reach to initiating targeted PPC campaigns, our marketing strategies were designed to propel VSRE's digital presence and reach their target audience effectively.
To add to the complexity, we were racing against the clock. With a window of fewer than 60 days, every moment was precious. This tight timeframe pressed upon us the need for swift decision-making, efficient execution, and unwavering focus.
Tackling these challenges head-on, we embarked on this transformative journey with VSRE, committed to turning vision into reality.
Our dedicated team formulated a robust strategic approach tailored to Vertical Strategies Real Estate's ambitions of making a marked entry into the bustling Miami residential market. Through in-depth market analysis, we garnered insights into the local real estate environment, identifying opportunities and potential niches. This research then informed our rebranding efforts, allowing us to craft a brand identity that was not just modern but also deeply resonant with Miami's unique cultural and lifestyle nuances.
The website we envisioned and executed was built with the end-user in mind. Features such as a customized MLS feed and intuitive Google map overlays were integrated to provide a streamlined property search experience. Beyond mere aesthetics, the site's back-end was fortified with tools to optimize lead capture and engagement.
Our digital marketing endeavors were multi-pronged. SEO techniques were meticulously employed to boost VSRE's online visibility, while content marketing highlighted their expertise. Social media campaigns were designed to engage with local communities, and targeted PPC campaigns were utilized to drive qualified leads to the site.
Time was of the essence, and the 60-day deadline loomed large. However, by employing agile project management techniques, we ensured tasks were executed in a timely and efficient manner. Frequent communications with the VSRE team further streamlined the process. Ultimately, our comprehensive solutions amalgamated modern technology with strategic creativity, ensuring a seamless and impactful transition for VSRE into Miami's residential real estate arena.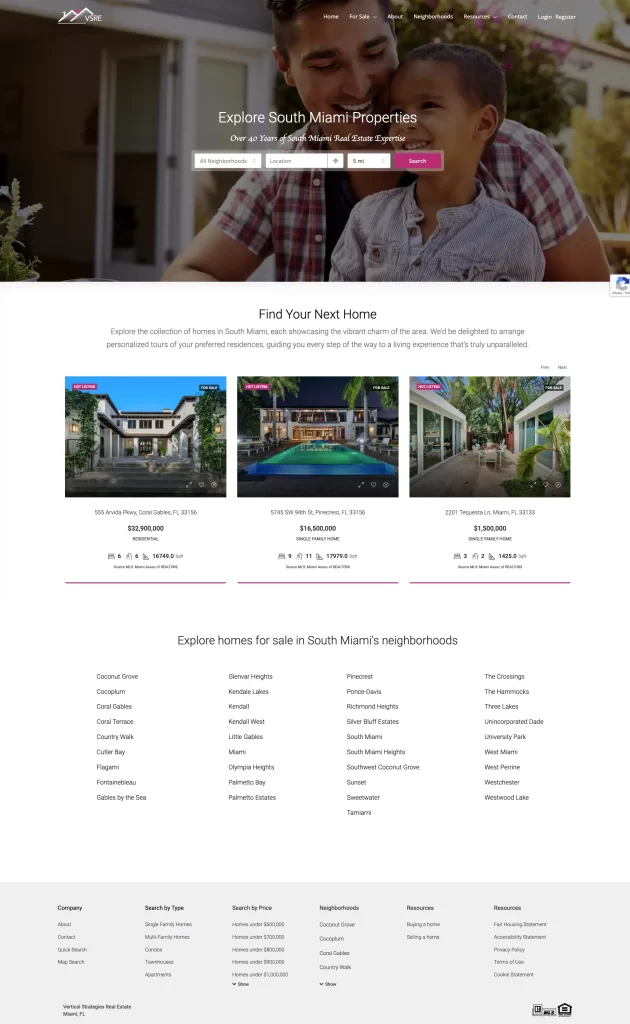 "When we approached Tourza with our vision for expanding into the Miami residential market, we knew the challenges would be manifold. But from day one, the team showcased not just their expertise, but an unwavering commitment to bringing our vision to life. Every hurdle was met with innovative solutions, and their comprehensive strategy took into account even the minutest of details. The end result? A brand identity that resonates and a user-centric website that's been instrumental in driving leads. Their work not only placed us at the forefront in a competitive market but surpassed our expectations in ways we hadn't imagined. Partnering with Tourza was one of the best business decisions we've made." — Rafael A. Villamizar, CEO, Vertical Strategies Real Estate.