Set up your lawn care business for success with our starter website design package, offering all the necessary tools to thrive online.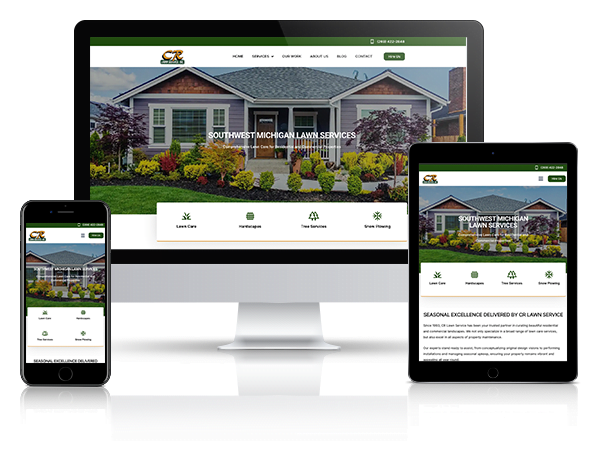 Ready to thrive in the lawn care industry?
Our comprehensive package is not only designed to help you boost your online reviews, attract clients, and stand out locally, but it's also remarkably affordable. Explore the details of our solution below.
Get all of this and more at one affordable price, with no hidden fees or obligations. Continue reading to learn more.
Explore how CR Lawn Service achieved remarkable success with our services. Read their inspiring journey to growth.
We're the go-to web marketing agency for lawn care specialists. Our team brings industry expertise, tailored strategies, and proven results to the table. With transparent pricing, personalized service, and a focus on your success, Tourza is your trusted partner for transforming your lawn care business online
In addition to our core services, our marketing package also contains a variety of essential components that work together to enhance your online presence and attract more clients.
Supercharge your site's speed and rank, ensuring a seamless experience for your visitors.
Enjoy a full year of managed hosting: we handle site upkeep, ensuring it's fast, secure, and online 24/7 for you.
Get a free SSL Certificate: ensuring your website is secure and trusted, safeguarding user data and boosting your search ranking.
Benefit from free support, anytime! Reach out via phone, email, or chat, and we're here to assist promptly.
We get the lawn care industry. Let us boost your business with tailored marketing services. Elevate your lawn care today!
Custom packages available
If you have specific marketing needs, or if you want to mix and match our services, reach out to us. We'll create a package that's just right for your business!
Have questions or ready to get started?
Feel free to reach out through the form, chat, or by calling us at (863) 301-4829. We're here to assist you.
The most commonly asked questions about our website and marketing services for lawn care professionals.
What's the typical timeline for building a website from start to finish?

It typically takes under two weeks to build a lawn care website once we have required materials like logos, images, and videos. We can obtain these from your current website or social media, and you can supply any extra content for your new site.
Is this a custom design lawn care website, or do you use templates?

Our lawn care websites are entirely custom-designed.
Will the website be mobile-responsive?

Certainly, our lawn care websites are designed with a mobile-responsive approach, ensuring optimal functionality and performance across all device types.
Will I receive a copy of the website when it's completed?

Absolutely, upon completion, we will provide you with a comprehensive backup of your website for your records.
Will I be able to update my new lawn care website content myself after it's built?

Certainly, the website is designed to be user-friendly for content updates. Should you prefer not to handle them, we offer complimentary updates for fundamental changes, including pricing adjustments, new service descriptions, and adding media.
Why should I choose your hosting platform?

Our hosting solution is tailored for small to medium-sized business websites, utilizing dedicated servers from Liquidweb, a recognized leader in secure and dependable hosting. We prioritize security and performance, implementing features such as encrypted hard drives, dedicated firewalls, real-time monitoring, and offsite backups via Acronis, ensuring your website remains safe and performs optimally at all times.
Can I use my own hosting?

Yes, of course you can. Once the website is finalized, we can deploy it to your chosen hosting provider.
How do we get started?

To initiate the process, we'll schedule a consultation call to discuss your project requirements. Following this, an invoice for the initial 60% deposit will be forwarded to your email. Upon receipt of payment, we will commence the work.
What payments do you accept?

We accept major credit cards including Visa, MasterCard, and American Express. Additionally, we also accept payments through Zelle.
Do you offer any guarantees if I am not happy with the work?

Yes, if you're unsatisfied with our work, we offer a full refund of the amount paid.