Take your lawn care business to new heights
The fastest way to drive growth, attract clients, and stand out in your industry without breaking the bank!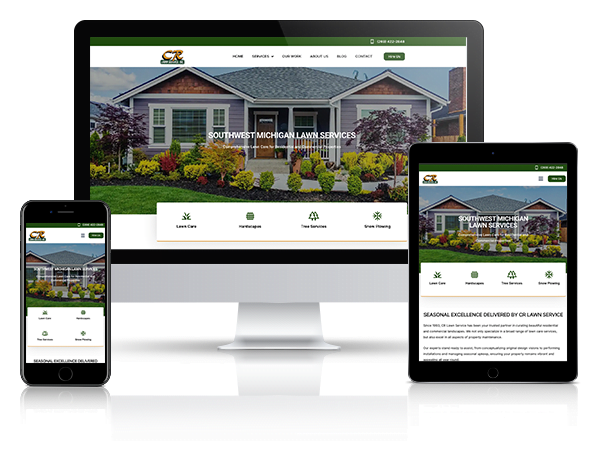 As a seasoned lawn care pro, you're no stranger to the challenges of building an online presence in a competitive industry. We understand the demands of your business, from budget constraints to seasonal fluctuations and the occasional negative review. That's why our specialized online marketing package is designed to help you overcome these hurdles, strengthen your business, and connect with a broader client base. Our tailored solutions are here to boost your income, enhance your reputation, and simplify client acquisition, addressing the unique challenges you face."
Ready to thrive in the lawn care industry?
Our comprehensive package is not only designed to help you boost your online reviews, attract clients, and stand out locally, but it's also remarkably affordable. Explore the details of our solution below.
Get all of this and more at one affordable price, with no hidden fees or obligations. Continue reading to learn more.
Explore how CR Lawn Service achieved remarkable success with our services. Read their inspiring journey to growth.
We're the go-to web marketing agency for lawn care specialists. Our team brings industry expertise, tailored strategies, and proven results to the table. With transparent pricing, personalized service, and a focus on your success, Tourza is your trusted partner for transforming your lawn care business online
In addition to our core services, our marketing package also contains a variety of essential components that work together to enhance your online presence and attract more clients.
Supercharge your site's speed and rank, ensuring a seamless experience for your visitors.
Enjoy a full year of managed hosting: we handle site upkeep, ensuring it's fast, secure, and online 24/7 for you.
Get a free SSL Certificate: ensuring your website is secure and trusted, safeguarding user data and boosting your search ranking.
Benefit from free support, anytime! Reach out via phone, email, or chat, and we're here to assist promptly.
Receive monthly reports detailing your website's search ranking and overall health, helping you stay informed and ahead of competitors.
We get the lawn care industry. Let us boost your business with tailored marketing services. Elevate your lawn care today!
Custom packages available
If you have specific marketing needs, or if you want to mix and match our services, reach out to us. We'll create a package that's just right for your business!
Have questions or ready to get started?
Feel free to reach out through the form, chat, or by calling us at (863) 301-4829. We're here to assist you.
The most commonly asked questions about our website and marketing services for lawn care professionals.
What's the typical timeline for building a website from start to finish?

It typically takes under two weeks to build a lawn care website once we have required materials like logos, images, and videos. We can obtain these from your current website or social media, and you can supply any extra content for your new site.
Is this a custom design lawn care website, or do you use templates?

Our lawn care websites are entirely custom-designed.
Will the website be mobile-responsive?

Certainly, our lawn care websites are designed with a mobile-responsive approach, ensuring optimal functionality and performance across all device types.
Will I receive a copy of the website when it's completed?

Absolutely, upon completion, we will provide you with a comprehensive backup of your website for your records.
Will I be able to update my new lawn care website content myself after it's built?

Certainly, the website is designed to be user-friendly for content updates. Should you prefer not to handle them, we offer complimentary updates for fundamental changes, including pricing adjustments, new service descriptions, and adding media.
Why should I choose your hosting platform?

Our hosting solution is tailored for small to medium-sized business websites, utilizing dedicated servers from Liquidweb, a recognized leader in secure and dependable hosting. We prioritize security and performance, implementing features such as encrypted hard drives, dedicated firewalls, real-time monitoring, and offsite backups via Acronis, ensuring your website remains safe and performs optimally at all times.
Can I use my own hosting?

Yes, of course you can. Once the website is finalized, we can deploy it to your chosen hosting provider.
How can Local SEO benefit my lawn care business specifically?

For lawn care businesses seeking to enhance their digital presence, Local SEO, or Search Engine Optimization, is an invaluable tool. This specialized branch of online marketing offers lawn care professionals heightened visibility in local online searches. When potential customers nearby hunt for lawn care solutions, a business adept in Local SEO techniques stands a greater chance of securing top spots, especially in Google's coveted "Local Pack." The result? A notable increase in website traffic and a boost in potential clients.

But the magic of Local SEO extends beyond just increased online visibility. Its true merit lies in its targeted approach. For lawn care businesses, this means connecting with homeowners or property managers right within their service area. A detailed Google My Business profile, showcasing services, operating hours, and glowing reviews, can further enhance a lawn care business's image, presenting it as both reliable and professional.

Interestingly, despite the competitive nature of the lawn care industry, not every business has fully tapped into the potential of Local SEO. This presents a golden opportunity for those who do, allowing them to distinguish themselves from competitors. Economically, Local SEO is a smart investment. Its precision in reaching a local audience results in higher engagement and potentially better conversion rates. After all, a person searching for "lawn mowing services near me" is likely in immediate need of such services.

Furthermore, the insights derived from Local SEO—such as popular search terms or seasonally-driven queries—can be invaluable for lawn care businesses. These data points can guide service adjustments or promotional strategies. In conclusion, for lawn care businesses eager to establish themselves as local experts and reach their most relevant audience, Local SEO is not just an advantage; it's a necessity.
How often will I receive reports on my Local SEO performance?

Every month for one year, we'll send you Local SEO reports. These detailed updates will show you how well your website ranks for your chosen keywords and give you a clear comparison of where you stand against your local competitors in the lawn care sector
How long before I can see tangible results from the Local SEO efforts?

Usually, within 2 weeks after your website is done, you'll notice an improvement in its ranking. However, easier-to-rank keywords will show results quicker than highly competitive ones.
What are typical keywords you focus on for lawn care companies?

Below are frequently targeted keywords in the Lawn Care sector. However, this list is not exhaustive and might not capture every keyword relevant to your specific business or location(s).

Lawn care services
Lawn mowing services
Lawn maintenance
Best lawn care services
Lawn treatment
Grass cutting service
Local lawn aeration
Lawn fertilizer service
Yard cleanup services
Weed control service
Lawn pest control
Lawn seeding
Grass installation
Sod services
Lawn irrigation and sprinkler services
Lawn dethatching
Landscape maintenance
Lawn edging services
Organic lawn care
Affordable lawn care
Yard drainage services
Grass over-seeding
Lawn repair
Lawn care quotes
Top lawn care companies
Lawn disease treatment
Grass type recommendation
Yard mulching services
Lawn care packages
Lawn analysis and consultation
Eco-friendly lawn care
Monthly lawn service
Bi-weekly mowing service
Garden maintenance
Seasonal lawn care
Leaf removal
Residential lawn care services
Commercial lawn maintenance
Lawn hydration and watering
Lawn care specials
Lawn trimming
Landscape renovation services
Lawn health assessment
What do you mean by Content Marketing?

Content marketing refers to creating and sharing written articles pertinent to the lawn care industry. These articles are distributed across various platforms to enhance your business's visibility and reach potential clients using a range of keywords and locations. It's a strategic approach to showcase your lawn care services and expertise.
How many articles do I receive with my lawn care marketing package?

The package includes 9 articles, each ranging from 900 to 2000 words, covering important lawn care topics.
How do we get started?

To initiate the process, we'll schedule a consultation call to discuss your project requirements. Following this, an invoice for the initial 60% deposit will be forwarded to your email. Upon receipt of payment, we will commence the work.
What payments do you accept?

We accept major credit cards including Visa, MasterCard, and American Express. Additionally, we also accept payments through Zelle.
Do you offer any guarantees if I am not happy with the work?

Yes, if you're unsatisfied with our work, we offer a full refund of the amount paid.