Explore how CR Lawn Service revitalized its online presence through a strategic website redesign and targeted SEO initiatives.
CR Lawn Care and Hurst Tree Service are twin ventures owned and operated by the same entrepreneur in Baroda, Michigan. With over a decade of experience in landscaping and tree care services, these businesses have become a staple in the local community, offering a comprehensive range of services from lawn maintenance and garden care to tree removal and stump grinding.
As trusted names in the residential and commercial property care sector, CR Lawn Care and Hurst Tree Service pride themselves on their quality workmanship, attention to detail, and impeccable customer service. Despite their success, the owner recognized that to stay competitive and further grow the businesses, they needed a more robust online presence to attract and convert potential customers.
CR Lawn Care and Hurst Tree Service had an outdated website that didn't align with their expertise. The site's lack of mobile-friendliness posed a usability problem, causing them to miss out on potential mobile traffic. Additionally, the website failed to effectively communicate the range of services they offered, impacting their credibility. Limited online reviews and poor SEO rankings further hindered their ability to attract new customers, underscoring the need for a comprehensive digital strategy overhaul
Recognizing the challenges CR Lawn Service faced, our agency crafted a multi-faceted digital strategy to address each issue holistically. The first step was a comprehensive website redesign, transforming the outdated site into a sleek, modern platform that's mobile-friendly. User experience was at the forefront of the redesign; we simplified navigation and utilized responsive design techniques to ensure optimal viewing on various devices. We also revamped the content to clearly communicate CR Lawn Service's high level of expertise and the range of services they offer.
Simultaneously, we initiated an SEO campaign tailored to boost CR Lawn Service's search engine rankings. This involved optimizing on-page elements like meta descriptions, headers, and keywords, as well as developing an ongoing content strategy to position the company as a thought leader in the lawn and garden care industry. To address the issue of limited online reviews, we implemented a review-generation strategy that encouraged satisfied customers to share their experiences, thereby improving the company's online reputation.
Through these combined efforts, CR Lawn Service was not only able to refresh its digital image but also amplify its online visibility, paving the way for increased customer engagement and business growth.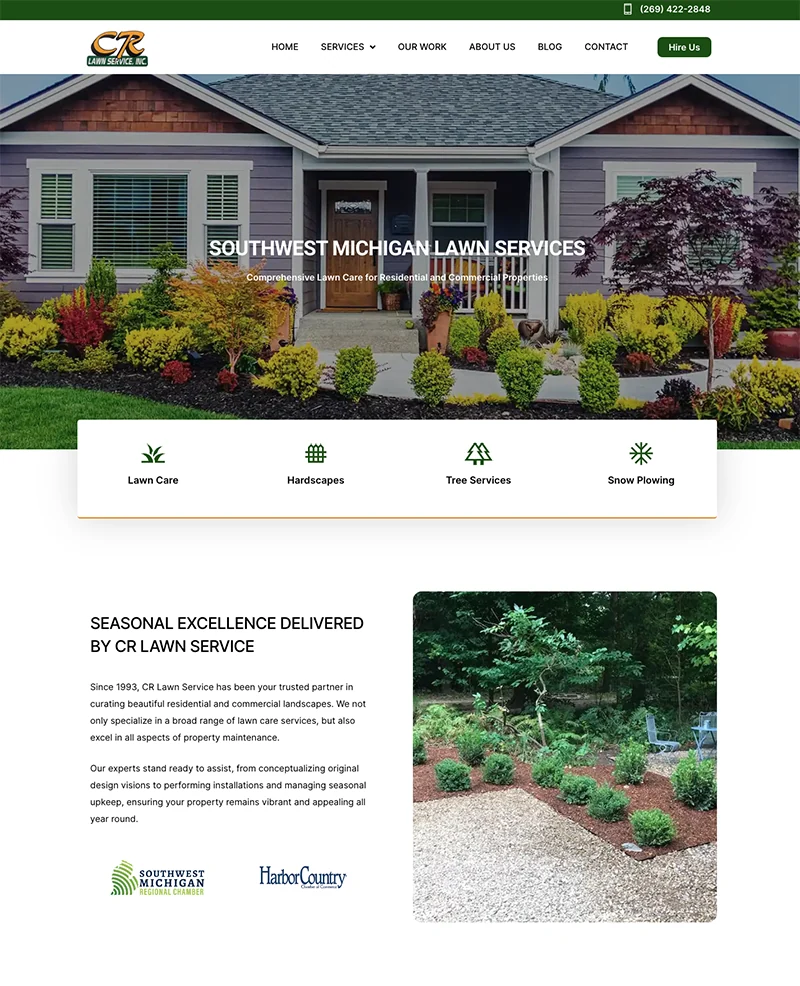 A couple months ago the companies I work for CR Lawn Service and Hurst Tree Service decided to revamp our marking.
We started with a local friend, Kim, that had the knowledge and experience to help us transition to a more modern marketing outreach. One of the first suggestions was to update our websites. We currently have a local company make and host our website. The sites functioned but looked dated and were not Mobile friendly. Kim has previously used Kevin with Six One Media and suggested we give them the business for a remodel.
Kevin took immediate action, gave us the upfront cost and stuck to the price. Communication was through email and very prompt. There was honestly very little he needed from us, Kevin ran with it and provided a great website and within a couple of weeks it was up and running. He always gave us early access to approve all changes before they went live. I was most impressed by the verbiage used in descriptions for the service we offered. For Kevin to not be in the landscape business he came up with some great descriptions that were professional and thought out.
Kevin took care of everything from confirming information, getting pictures uploaded from multiple resources we sent him and getting the domain names from our current host transferred over. We will certainly use Six One Media for all future website needs and alway give them as a referral to anyone in need of getting a website built. We just can't say enough about how easy Kevin is to work with.
Jake Scott
General Manager
CR Lawn Service Inc.
Hurst Tree Service